Nissan Parts Guide: Drivetrain vs. Powertrain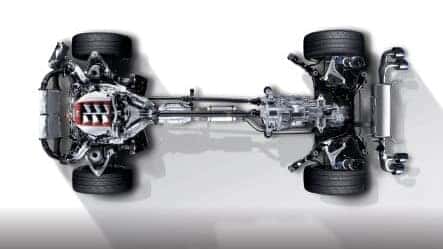 If you've been doing research looking for a brand new car, you might realize that there are some discrepancies between two Nissan parts: the drivetrain and the powertrain. These parts are often described interchangeably, but the truth is that there are a number of differences between these two systems that are important to realize before making a final decision about your purchase. To help you understand these differences, our Woodhouse Place Nissan team has created this guide.
The Drivetrain Explained
The drivetrain within your Nissan vehicle is what transfers your engine's energy to your wheels for motion. This system consists of a few different moving parts, but the most important of these are the transmission, driveshaft, and differential. 
Depending on if your car is AWD or FWD, the drivetrain functions a little bit differently – FWD vehicles don't need a driveshaft to bring power to the back wheels, as they utilize a transaxle instead.
If you can't shift gears as easily as you once could and you notice poor handling while you drive, there could be an issue with your drivetrain – it's a good idea to stop by our Nissan service center to learn more.
What Is the Powertrain and How Does It Work?
The powertrain actually includes the drivetrain along with either an engine or motor. Your powertrain, as the name implies, is the source of the power generation inside your vehicle and it leads to the high levels of performance Nissan cars are known for.
First, you start the ignition and begin burning fuel. This causes the crankshaft to rotate, allowing your transmission to convert this rotation into energy that can be sent through a series of gears and other components. Finally, this power goes to your wheels through your drivetrain so your vehicle can accelerate.
Visit Woodhouse Place Nissan for More Info
If you have any additional questions concerning the powertrain and how it works to power your vehicle, stop by our Nissan dealership in Omaha, NE, today. Our representatives will talk you through these vital parts of your vehicle so you can completely understand how they function. Come see us today to learn more!